Striped Cushions: Simple and Stylish! ​
Look around the furnishings of a living space and
cushions are perhaps the first element
that strikes the eyes.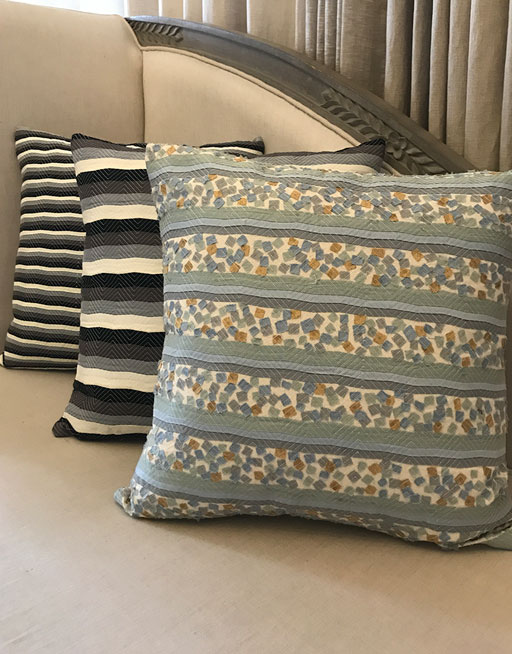 Cushions
of varied shapes, sizes, colours, patterns and textures- are the easiest furnishing to add to a space to lift it, infuse colour and style. Cushions instantly lift a space. They are one of the easiest and least expensive home décor elements to procure and add to a space. They bring comfort with style, are easy to maintain, and can be easily moved between spaces from chair to sofa, from couch to floor, from one room to another attesting how flexible and versatile they indeed are! 
The design team at Calyz enjoys designing cushions as they are so popular and widely used. The studio regularly presents new collections of cushions along with its offering of curtains, quilts, textile art, kitchen textiles and more recently masks. And the studio's latest offering is a range of stylish, handcrafted natural fibre cushions that stand out for their striking stripes!
The new Calyz collection of cushions brings
a touch of classic, contemporary and chic
stripes to all spaces.
The collection of striped cushions has cushions that are ideal for interiors as well as the outdoors. The collection features cushions that work well as outdoor striped cushions, striped patio cushions, striped bench cushions, striped patio chair cushions as much as striped chair cushions, striped sofa cushions and striped lounge cushions!
Stripes have long featured on varied products from candy and barcodes to garments and home décor. Home furnishings bearing stripes –designed with a play of thick or thin lines, lines of different colours, lines at different angles, and juxtaposing lines of different thicknesses, colours, angles in regular or varied spacing– instantly give an edge to the entire design ensemble of a space!
The sheer versatility of stripes makes the striped cushions from Calyz feel at home instantly! Stripes as a design element allow for a seemingly endless spectrum of stripes. The Calyz design team has drawn on the possibilities of creating stripes and created a new collection of striped cushions. The design team has worked with thick stripes that stand out for their bold look as well as thin stripes that are quiet and subtle. 
Keeping the early winter chill in mind, the colour palette of the new collection is warm and comforting as it features black and white as well as pastel colour cushions.  The collection features black and white stripes that is a classic colour combination, that will add panache to a space as well as stripes of soft pastel colours that will find a place in any space! Take a moment to think of the fabric of the chair or sofa the cushions will be placed on for the look you like to get interiors that are eye-catching and spirited or understated and classic!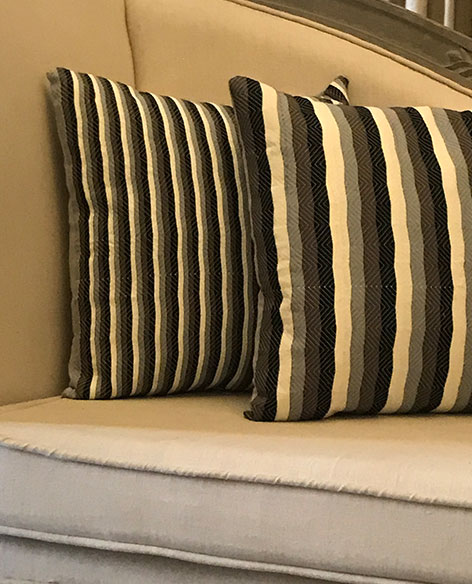 Choose from are grey striped cushions, blue striped cushions, green striped cushions, red striped cushions, black and white striped cushions as well as grey and white striped cushions to get the ideal look for your space.
The repetition of the set of lines of each the compositions in the collection gives the cushions a mesmerizing rhythmic effect. With just this seemingly simple design, the cushions take on an attractive visual effect! Place just one cushion to infuse life in a spot or arrange a set of cushions in a neat sequence or as an arrangement and you have a conversation starter! The cushions may be placed horizontally, vertically or at an angle. Further, a set of the same striped cushions or cushions with different stripes may be grouped together. And as the fabrics of the cushions as well as the surface treatment are 100% cotton they are most comfortable to the touch.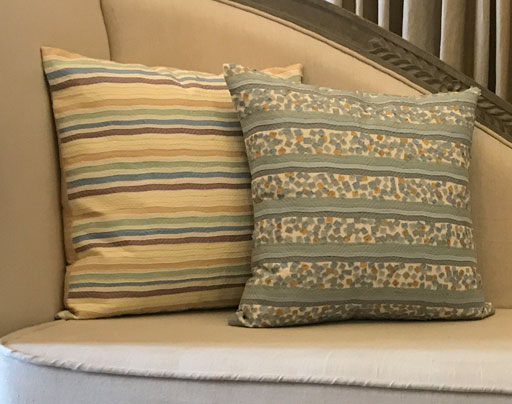 Enhancing the all-natural look and feel of the cushions is the wonderful pleated surface design of the striped cushions. These pleats have been meticulously handcrafted by rural women artisans near Pune who carefully take stripes of cloth, fold them, affix them to the ground fabric and then secure them by chevron stitching. Each strip of folded cloth is neatly tucked and skilfully placed below the previous strip making for a seamless flow of stripes. And the neat chevron stitching adds a lovely decorative touch to the entire composition which ensuring all the stripes are secure.

Another of the design options from Calyz is the cushions that bear stripes juxtaposed with mosaic art. Drawing on a shared colour palette, these cushions bear sets of stripes separated by a band of mosaic work. The colourful mosaic is handcrafted by juxtaposing small bits of fabric that are sewn on a base cotton fabric. This craft is also done by rural women artisans and about 30% of the raw material is recycled from in-house production.    
Interestingly the pleated surface design and the mosaic art thicken the surface of the cushions. Thus, by sheer advantage of the surface design technique, the cushions get added heft. They look and are sturdy when well propped- up on chairs and sofas, and give seating a smart look. 
With the striped cushions from Calyz offering a bouquet of features and the ease of shopping at the Calyz website from the comfort of your home, do browse the site and select cushions that complement your aesthetics and home! 
Whichever cushion or set of cushions you select, they are sure to enhance the look of your home, make the seating more comfortable and make a style statement!