Designer Décor
"Home is where one starts from" is a hauntingly beautiful line in distinguished poet T.S Eliot's marvellous work Four Quartets. With its spaces, warmth and embrace, a home is truly a physical and emotional anchor at all times, and specially so in the present times shadowed by the coronavirus cloud.
Keeping one's home as well as work spaces soothing and pleasing for the senses- even as it is neat and functional- brings much joy and fulfilment. With a little thought and a judicious selection of artworks and soft furnishings, one can easily transform any and all spaces into a warm and inviting cocoon and in the process lift one's spirits, lifestyle and life.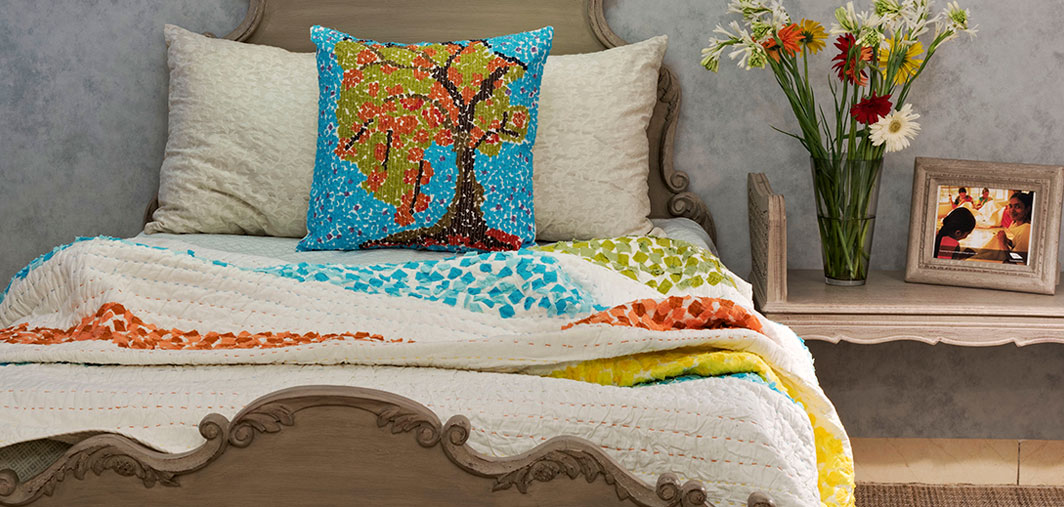 Calyz, a Pune-based designer furnishings studio and store, founded by textile designer Vineeta Jadhavrao, a graduate of NID, Ahmedabad, offers a range of exclusive, aesthetically designed- handcrafted curtains, cushions, quilts and kitchen towels that bring a quiet aesthetic and warmth to interiors. These are perfect for your own home and are ideal as anniversary gifts for parents, personalised gifts for your relatives, friends and colleagues; as house-warming gifts; and as gifts for those who love handmade crafts!
The studio has elegant curtains for windows and doors; colourful cushions for the sofa, chairs and beds; evocative textile art for the walls and translucent textile screens partitioning spaces; lovely quilts inviting one to be wrapped in their warm embrace; and cute kitchen towels that make cooking a joy! These promise to instantly change the look and feel of a space, and one's mood as well!
All the furnishings at Calyz are made from natural fibre fabrics- that is cotton, linen and silk- thus making them soft to the touch, breathable and natural. They are hand-stitched; bear handcrafted surface design of harmonious compositions inspired by nature; and their colours are warm and soothing to the senses.
While each furnishing has its place in interiors, perhaps curtains best usher in its ambience. Curtains, stitched with beautiful fabrics and draped along or drawn across windows, doors and openings, complete a space even as they play multiple roles. Curtains provide light control and privacy to spaces even as they add a dash of colour and style. The more neutral they are the more the room gets highlighted which makes a muted colour and design palette of curtains ideal for interiors of urban spaces.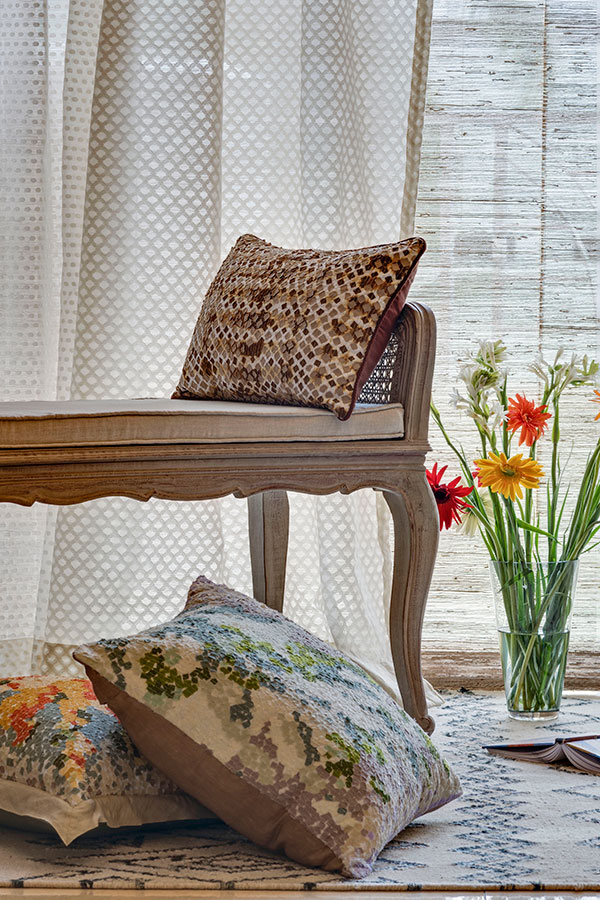 Calyz offers a range of hand-woven natural-fibre fabric curtains in brocades, linen gauzes, linen-cotton and cotton-satin weaves. Brocades are fabrics with motifs woven with supplementary yarns that bring an understated luxurious look to interiors; linen gauzes allow natural light to softly filter into the interiors, linen- cottons infuse interiors with elegance; and cotton-satin being rich and opaque infuse the interiors with a plush ambience even as they help to effectively block out natural light and glare when required.
Curtains may thus be selected according to the light and privacy enjoyed by the room. In spaces with low light and where privacy is not a concern, sheer curtains in brocades or linen gauze are ideal. Spaces that have strong light may be designed with linen cotton or cotton satin curtains to soften the light and allow an indoor-outdoor connect. And spaces that require privacy may be designed with double curtains with one set being opaque and the other sheer. This combination allows for flexibility of use as sunlight can filter in and views blocked as required during different times of the day.
To extend the height of the room visually it is suggested that the curtains can start closer to the ceiling as their length creates an illusion of added ceiling height. For added elegance one can opt for pleats as they give curtains a better fall, and for channel mounts as they help the curtains slide easily. Eyelets may be avoided for high ceilings as they do not slide easily, yet, are suitable for windows or lower height doors. Rod pockets are an option where curtain operation is minimal as these do not slide easily. Another suggestion is for brocade curtains to be lined with a free coloured lining that adds a touch of colour, interest and makes them opaque; the lining can be changed to bring in a new look! 
Curtains can be easily ordered online at the Calyz website. They are available in three sizes keeping in mind the lengths typically required for doors, long doors and windows. 
Top treatments are rendered in rod pocket style, grommets or eyelet style, and pleated style. In this way with single or combination curtains and a choice of top treatments, a range of options for styling windows, openings and doors with designer drapes are available. While the curtains create the mood of light, openness and privacy to interiors, cushions are an instant pick-me-up! Cushions are perfect for bringing comfort while sitting on hard or angular surfaces, softening the look of a space and adding a dash of style to interiors with minimum effort! Cushions decorate, define, comfort and protect, and can easily be moved around between spaces from chair to sofa to bed making them a flexible and versatile décor element!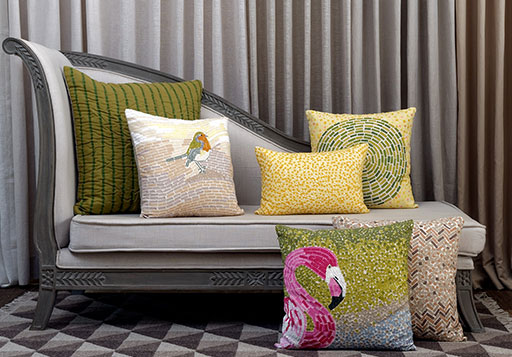 Calyz has a vast range of handmade cushions in a different fabrics, colours, textures and colourful compositions rendered by collaged fabric that is a proprietary technique of the studio. The collage fabric art creates colourful patterned mosaics of compositions inspired by nature. The works are created by juxtaposing small bits of fabric that are sewn on a base cotton fabric. The craft is done by women from rural areas near Pune and about 30% of the raw material is recycled from in-house production.
Cushions may be selected to be used singly or in collections; they may be of the same size and shape or of different sizes and shapes; and their colours may compliment or contrast with the colours of the floor, walls, furniture and art in a space. Whichever option one selects, these designer cushions complete the look and comfort of a seating area or the style of a bed and make a statement by their presence! 
So if it is handmade sofa cushions, chair cushions, seating cushions for any surface and/or bed cushions that you are looking for, then Calyz is the place to browse.
Browsing through the collections, one can judiciously decide on the size, shape, style and number of cushions required for a particular seating or surface. The fabric, colour and ornamentation of cushions can be decided according to personal preferences keeping in mind that the overall ambience of the particular space needs to have a high quotient of harmony and balance. The choice of fabric and surface design will depend on the space being designed with more formal look for the living room, a more fun and informal look for the television room, and a stylish yet serene look for the bedroom.
While brocade cushions create a rich look, the latest season's colours bring in a contemporary vibe and those with artwork speak of the artistic design idiom of the home. If opting for a mix of prints, textures and/or colours, the element of contrast needs to be worked on. For instance, a plain textured cushion grouped with a printed or woven second cushion can add the contrast and the accent to both.
The cushions may be of different sizes and shapes for added effect. For a simpler style one there can be just one accent cushion with details and colours that binds the ensemble, while for an eye-catching splash there can be a few accent cushions. Several combinations are possible and it is best to browse the different collections, visualize the possible combinations of cushions and then create the look one wants.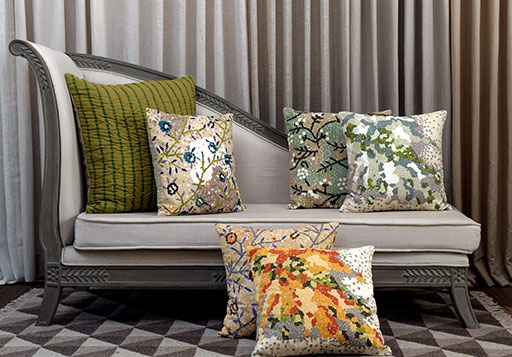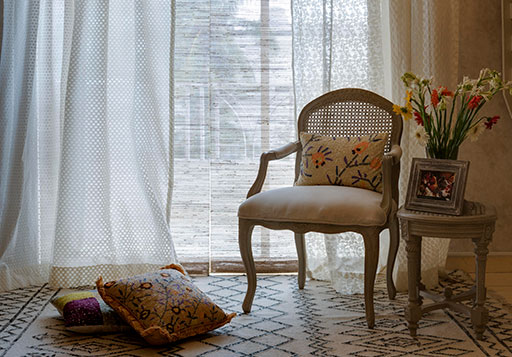 In a bedroom, cushions on the bed are best arranged on a quilt or bedspread. Sometimes just the sight of a lovely quilt is like a balm to the senses as it casts a spell of comfort, warmth and repose. Calyz has a collection of attractive handmade cotton quilts designed with the studio's signature textile collage art technique by which hundreds of small colourful bits of fabric are affixed and stitched on the fabric to create stripes, stars, foliage, flowing vines and flowers. This technique allows for large patterns and repeats.
All the quilts are hand crafted with cotton fabric of different weaves including satin weave that has a gorgeous glossy surface. The quilts have three layers: the upper and lower layers are of cotton fabric and in between them is cotton wadding. The mosaic pattern is worked on the topmost layer. The three layers are then hand-quilted to bind them together and create an artistic quilt that looks wonderful when spread on the bed and wraps one in warmth when snuggled in its folds!
With the soft furnishings transforming interiors, an artwork or two on the walls completes the look. In keeping with its design philosophy -of creating designer furnishings with natural fibre textiles with hand-worked surface design- Calyz offers artistic wall art, of wonderful compositions such as the tree of life, in different dimensions, created with mosaic art.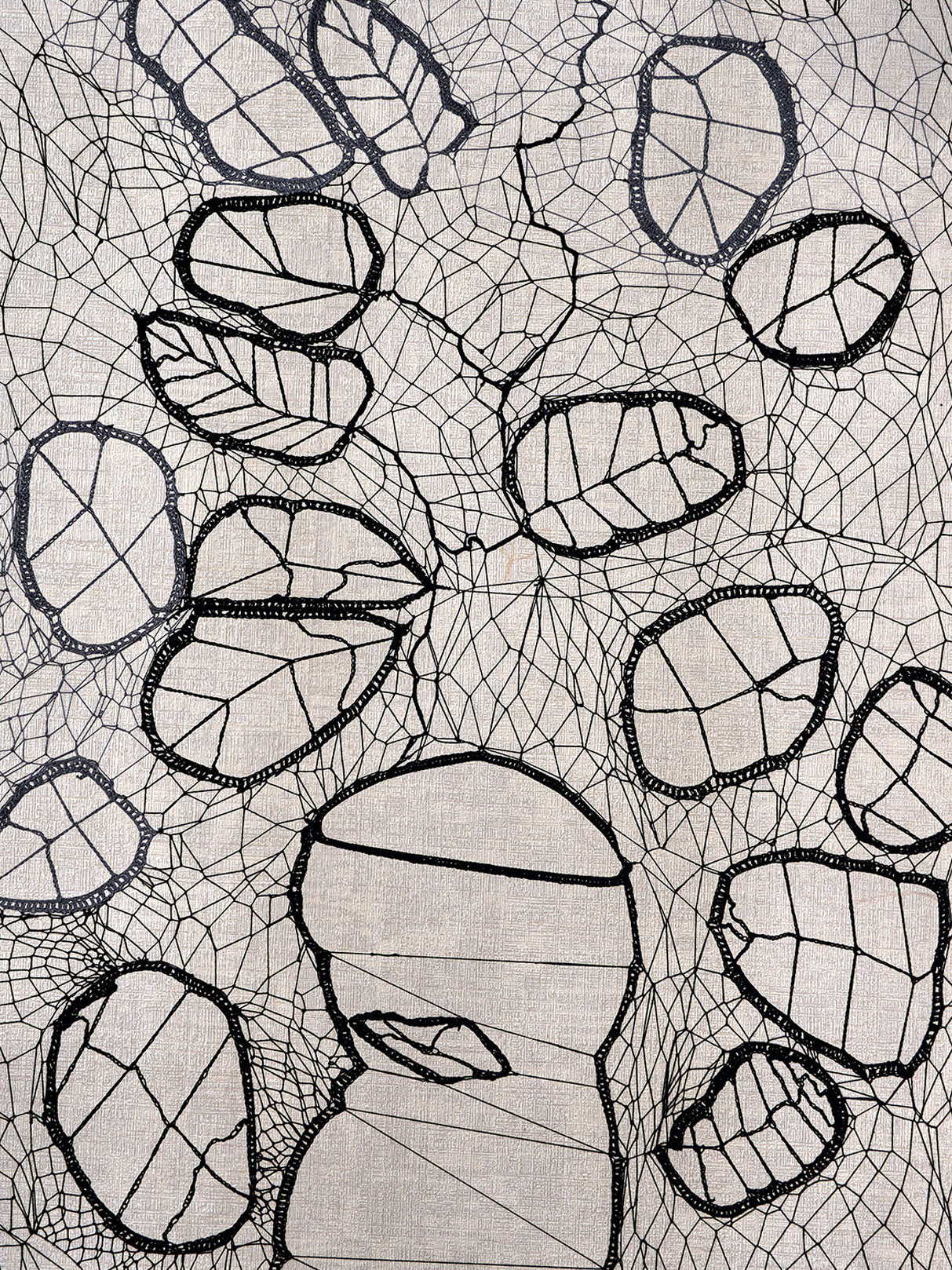 In similar vein, the studio designs a choice of space dividers. In large or compact homes, a delicate, light, semi-transparent screen is handy to discreetly divide space and for privacy. Calyz offers space dividers, bearing ethereal surface decoration that can be placed on stands or suspended. As the patterns are on both sides, these screens can be viewed two ways and making them art works allaround and thus function as screens, partitions and art!
These works are created with natural fabrics namely cotton, jute and silk with banana fibre cloth (as backing for structural and aesthetic reasons) and natural materials such as yarns and cords. The compositions are designed by drawing on a variety of textile techniques, namely, collaged fabric, pleating, layering, cording, wrapping, crochet, and knotless netting, and are handcrafted by the studio's in-house team of designers and artisans.
Calyz believes in marking its presence in all spaces and this includes the kitchen where many hours are spent cooking, eating and washing up! Bringing a splash of joy to kitchens are the most endearing kitchen towels. These towels are of soft, lint-free hand-woven cotton and bear a lovely motif of a fruit or vegetable hand-crafted in the studio's signature mosaic art technique. These charming towels are great for wiping hands, dishes as well as covering food.
While Calyz presents a choice of signature furnishings to transform interiors, it thoughtfully also brings customers what is presently perhaps one of the most important and sought after articles – the face mask! Masks from Calyz are made with fine hand-woven fabrics and hand-stitched. 
The fabrics used range from organic cotton to rich khann and beautiful brocades, in neutral colours, deep green and black, ensuring protection with comfort and style. While the simple cotton masks are ideal for everyday use, the brocade masks complete a dressy ensemble when stepping out for party, event or formal get together! The masks are packed in safe and sterile conditions ensuring they reach customers in pristine condition.