A Palette of Festive Colours from Calyz
Celebrate the Festival of Lights with
colourful and bright hues in your home.
A special festival offer* awaits you!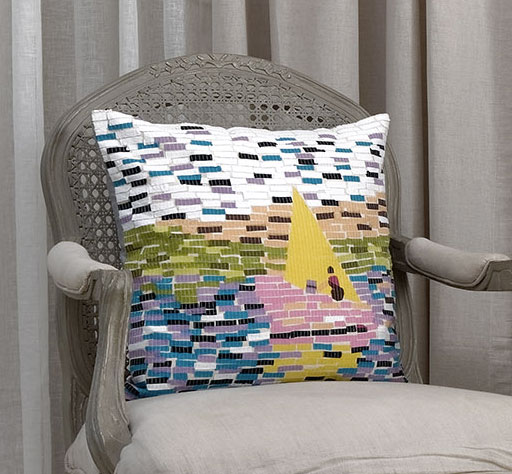 Diwali, the joyous Festival of Lights, is the first major festival on the Indian calendar as we emerge from the long drawn-out bout of the coronavirus pandemic. As we look forward to celebrating the festival, even if with smaller gatherings and in a muted way, a splash of festive colours truly goes a long way in lifting the spirits, energizing us and giving us hope for the months ahead.
You have spent months during the different phases of the lockdown at home and now is the time to give it a makeover with bright, energizing handcrafted soft furnishings.
Calyz shows the way to doing up your
home with festive colours, with complete
ease, from the comfort of your home.
Browse the Calyz website and select curtains, cushions and kitchen towels featuring prominent colours of orange, pink, red and yellow to bring festive joy to your home. 
Making your Calyz home décor shopping experience even more attractive is the special Diwali offer*!  The Diwali festive season sale* of festive colours offers a 25% offer on cushions of festive colours (of pink, orange, red and yellow) and a 20% off on all the other cushion covers. Curtains of the festive colours have a discount of 15% discount and other curtains have a discount of 10%. Kitchen towels enjoy a flat 10% discount. 
Take a moment to see the fabrics, colours and styles that suit your home and check the best deals on curtains* and the best deals on cushions*. Enjoy this bouquet of festive offers* from Calyz that will effortlessly transform the mood and look of your home!
The easiest way to bring colour to a space is by introducing colourful cushions. If you are looking for a quick pick-me-up for your home interiors or are on a bit of a budget simply select a couple of cushions to do the needful! These cushions also make perfect Diwali gifts as they easily take their place in any home and heart! And the cushions sale* offer certainly makes the purchase easier on the wallet.
Calyz has a range of colourful cushion of different sizes and shapes made with natural fibre fabric and bearing hand-worked surface designs. Select cushions with eye- catching colours such as Flamingo that features a graceful flamingo bird with its sinuous neck in bright pink or Poppy that bears a large stylized poppy flower in pink.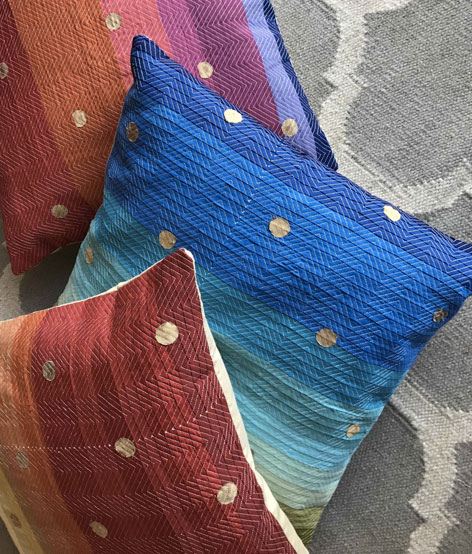 Another option is (pl place the name of the cushion range if any to be put), the new range of lightly quilted cushions, designed in tones of a single or more colours or in colour blocks. Spangled with metal fabric dots, reminiscent of gold coins that shimmer softly on the ground fabric, these cushion complement any décor – tradition or modern – and instantly bring a touch of festivity.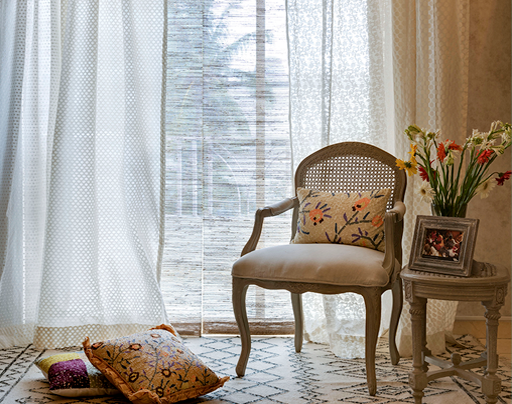 Curtains define spaces. Curtains help manage light and privacy in spaces. If you are looking for a makeover for one or more rooms and feel it is time to change the curtains or get a set of curtains only for the festive season and special occasions, then do take a look at Calyz's designer curtains and the curtains sale*. While there is a wonderful range of curtains in neutral colours, you may wish to go in for those that have a more festive vibe! 
The curtains in orange, fuchsia pink and yellow are sure to instantly lift the mood and make for most colourful and joyous interiors. The Fuscia Linen Cotton curtains have a rich texture, the softness of cotton, the crispness of linen and a lovely drape. The Golden Cotton Satin curtains with a soft sheen are ideal for a rich look matching the glow of oil lamps and complementing the verve of marigold flower decorations!
Charming Kitchen
Textiles
Diwali is synonymous with a spot of indulgence and this invariably means preparing sweets or savouries for family and friends! The kitchen where you will be busy preparing delicacies and perhaps unpacking some boxes of treats would do well with a little colour as well.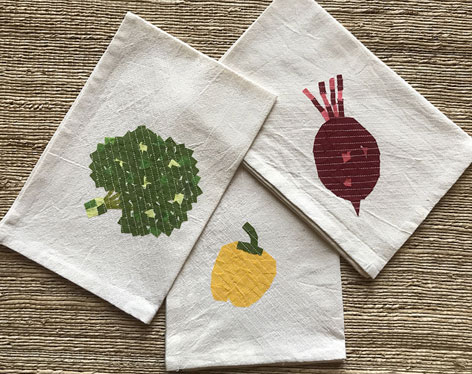 As you are bustling around in the kitchen, organizing food and beverages, kitchen towels are nifty to wipe and dry hands. Calyz's Kitchen Textiles range has lovely handcrafted kitchen towels with the most charming motifs of fruits and vegetables created by the studio's signature mosaic art. The kitchen towels are of soft, absorbent cotton fabric, and can be purchased as individual towels as featured on the site or in sets of three. These delightful kitchen towels, being useful and aesthetic, also make great Diwali gifts!